ShepWave

ShepWave UPDATES FOR TUESDAY.
by ShepWave.com
Posted: 9/18/2017 23:01 EST

There will be two updates for Tuesday published shortly.

The Pre-Market / Intra Day Update for Tuesday will contain the 15 and 60 minute time frame charting analysis for the major U.S. equity indexes: SPY/Dow Indu, RUT, QQQ/NDX.

I have received numerous emails to give some more in-depth details concerning the recent moves in Gold and in the mining indexes as well as silver and Crude Oil.

So ALSO, the SPECIAL Update for Tuesday: Special GOLD (Weekly and Daily) Charts; 60 min GLD charts; 60 min SLV charts; Daily and 60 minute GDX (mining) charts; weekly and daily Crude Oil charts.

These have not been published yet but will be published shortly.

Log In at www.shepwave.com for ShepWave Updates.
---
HERE IS THE 60 minute chart we published for GLD on July 11th giving the aggressive BUY SIGNAL for GOLD and the metals in general. See the rest of the metal related charts in that update--still available on line for subscribers only.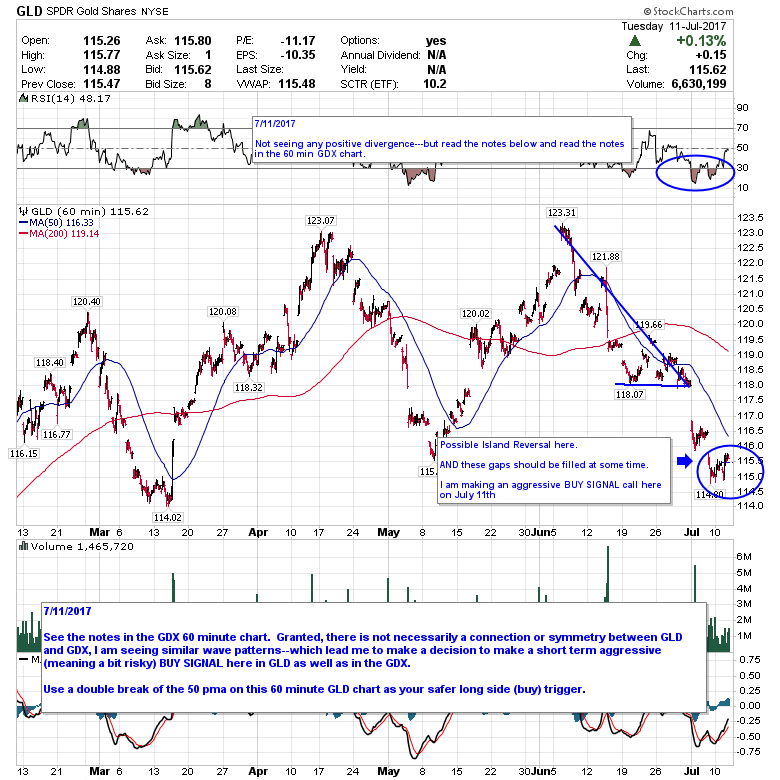 Reference: Shepwave.com is a technical analysis site for the Major U.S. stock indexes. We use Elliott Wave theory along with our proprietary indicators to give analysis for the Dow Industrials, Nadaq 100 and S&P 500 indexes. We specialize in trading the QQQQ and DIA.